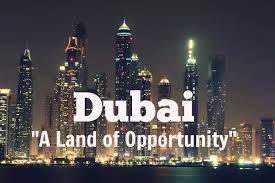 There is no denying to the fact that Dubai is one of the fastest growing economies in the Middle East. With its investment friendly policies and diverse market that attracts investors from all trades of business especially in real estate, events, finance, trade, tourism, and aviation sectors.
Dubai laws and regulations encourage small and medium entrepreneurs to get their share out of its strong economy and rapidly growing business market. Unlike many other business centers in the region, Dubai business setup policies welcome foreign investment to participate effectively in business activities.
Being one of the hottest tourist and shopping destination in Middle East, Dubai offers unlimited opportunities. Fact of the matter is that having world's third busiest airport and dozens of shopping centers to cater the needs of its visitors, it has a great potential as a trading center for your goods and services. If truth be told Dubai's diverse market has shown a tremendous growth in following segments:
Property development
There is no debate on the phenomenal growth of real estate and construction sector in Dubai. World's tallest building, Palm Island, World Island, Burj Al Arab and much more Dubai has a long list of magnificent structures to amaze the world. Dubai has one of the finest skylines arrayed with eye catching skyscrapers. This is the city where everyday a new project is announced. All this development is attracting developers and real estate professionals from around the world to put their share in constructing a beautiful city using new and innovative ideas.
Tourism
As mentioned above with the world's third busiest airport, Dubai welcomes millions of visitors every year and number is increasing. It is one of the hottest shopping destination in the region that makes sense for Dubai to have world's largest shopping mall to cater their needs. There are a number of tourist attractions that has provided boom to tourism industry in Dubai.
Energy
Although energy sector of Dubai is well established there are still a lot of investment opportunities related to it especially in the conversion to the green energy in Dubai.
Trading
Dubai has a great potential as a consumer market. In addition with a number of free zones Dubai provides best opportunities in trading sector by offering tax relaxations and duty free import/exports.
To sum it up, Dubai is undoubtedly the land of opportunity for the investors. Interestingly many trading company also consider Fujairah free zone company formation as an alternative option.